Fly Wichita Online Survey
Do you love using Wichita National Airport for your travel accommodations? Then, you can enter to win free parking for your next trip. Simply check out and complete the Fly Wichita online survey option!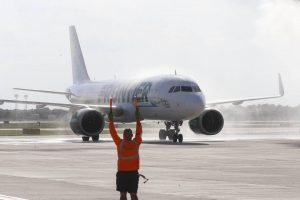 Fly Wichita Feedback
The online survey is for those who have flown ICT. Individuals who complete the online feedback will be entered to win free parking. The online survey is powered by Survey Monkey and it is located on the main Fly Wichita website.
Airport Restaurant Services
The Wichita National Airport offers a variety of restaurant services for flyers and visitors. Here are a few of the options currently:
Aviators Café – This airport café offers a variety of food options including baked foods, quick grab items, and fresh sandwiches. They also have salads and wraps for purchase for those who enjoy a healthy meal. This café includes a bar on location.
Chick-Fil-A – This restaurant is available on the concourse and offers all the Chick-Fil-A favorites for those who love the menu. A full service bar is also offered with light appetizers, wraps, pizza, and sandwich items.
Grab & Fly – This great place offers quick breakfast options, baked items, and even Dunkin' Donuts. Add your favorite coffee to this quick option for the mornings and early lunch.
Other restaurant services include River City Brewing and Air Capital Bar. Some are offered on the concourse while others are located on the first floor.
Giving Your Honest Opinion
So, if you have flied recently using ICT, then please take a few minutes of time to offer your insights. Or, if you are planning to fly with ICT, bookmark this article so you can take the online survey shortly thereafter. Either way, the online survey is located at www.flywichita.com/survey! They are waiting to hear your thoughts and opinions!