Quadrant Department Store Survey
Quadrant Department Store is offering an online survey for their customers. Once a month, they choose one customer who will win a lunch for two at an award-winning Brambles Restaurant.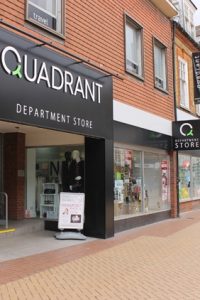 Quadrant Online
The online survey contains questions listed on one page including your interests in specific department stores for Quadrant. The company also asks simple questions seeking the departments you prefer to shop, whether you are interested in furniture, and whether you are interested in their "click and collect" service.
The online survey will only take a few minutes of your time. This is a great way to let the store know your personal thoughts and suggestions.
More about Quadrant
Quadrant Department stores have been in business since 1881. The establishment offers three-floor levels of convenient shopping of popular brands. They offer a nice selection of fashions, kitchen items, furniture, bedding, floor options, cooking items, linens, and draperies.
The business offers a restaurant on location as well as a baby changing station. For parties interested in photo sessions, this is made available as well. Or, if you need your clothes altered, an alteration service is available to meet your needs.
Taking the Survey
When you are ready to take the online survey, no shopping receipt or survey code is needed. Simply visit the survey link and take a few minutes to add your input, then you will be well on your way!
Today's online survey is available at www.chelmsfordstar.coop/quadrant/quadrant-department-store-survey!