Hoss's Steak & Sea Meals for a Year Giveaway
Do you love eating Hoss's Steak & Sea Meals? Did you receive a survey code from the company? If you would like to enter to win free meals for a year, then take some time to visit the survey link provided.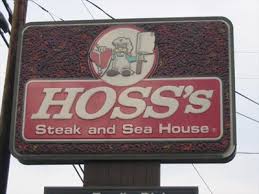 Taking the Survey
When you visit the link provided, you will have two options to enter the giveaway. First of all, if you received a survey code, you will see a Click Here button for this option. If you did not receive a code and want to enter the sweepstakes, then you will see a second option on site.
This survey/sweepstakes runs until December 31st of this year. So, be sure to enter now while you are thinking about it. The sweepstakes is open to those who are at least 18 years of age and legal residents of the following states: Ohio, Maryland, Pennsylvania, Virginia, as well as West Virginia.
Six monthly prizes will be available for those who complete the online survey option. Winners will receive a gift card worth $25 each. Then, the grand prize winner at the close of the year will receive free meals for one year compliments of Hoss's Steak & Sea!
Mobile Alerts Option
While you are taking a look around the main site, you can sign up for mobile alerts from the company. It is simple and will only take a minute of your time. Simply enter your mobile number and select your location. Click go to be sure you are in the mobile alert system. The company will send up to four messages each month. If you love Hoss's, then you can be a VIP Mobile Member.
Hoss's Gift Cards
To give the gift of Hoss's love, be sure to take a look at the gift card options online. There are several options available to you: buy locally at your Hoss's Steak & Sea, purchase cards online, or call their toll free number at 800-900-4677. Some retail stores also offer gift cards including: Safeway, Martin's, Giant and Kroger.
Giving Back to Hoss's
Guests can give back to Hoss's by taking their convenient online survey day or night. Completion of the survey at http://www.hosss.com/programs/win_free_meals.html will enter the survey taker into the monthly sweepstakes as well as give them a chance at meals for a year! They are waiting to hear from you, so why not visit today!