Which Wich? Online Survey
Do you love eating at Which Wich? Do you find their sandwiches superior? Whether your answer is yes, or no, you can enter the online survey! Provide them with your honest feedback of whether they are the best, or not!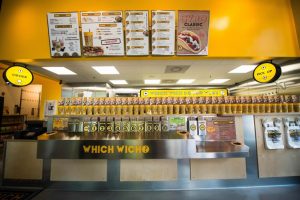 Which Wich? Survey
The Which Wich? Survey is a great way to quickly rate your personal experience. When you visit the survey page, you will be presented with a variety of smiley face options. First, choose the state you visited as well as the date and time of visit. Then quickly go through the following options clicking on which smiley face applies:
Overall satisfaction with your last visit
How accurate was your order?
Was the speed of service good?
How friendly were the staff during the visit?
Overall cleanliness of the store location
Then, you can give a thumb up or a thumbs down for the following:
Were you greeted promptly by staff?
Would you recommend them to friends?
Can Which Wich? Contact you about your experience?
The final option is a comments box. Enter anything which comes to mind about your visit you would like to share. This can include how the food tastes, employee compliments, or other suggestions.
Survey participants can even attach a photo to the online survey. This unique option is a great way to point out specifics! Not very many surveys add this feature, so take advantage of it! It is a great way to add clarity! Click submit and you are done!
New Menu Items
Did you know Which Wich? Is offering new menu items? They have worked hard to create the best of a variety of favorite versions. Here are some you might be interested in:
Yummy side up
Philly cheesesteak
Cobb salad wrap
Ulitmate BLT
Gyros
Meatball Grinder
Italian Club
The Rueben
Superfood Wich
And, the Wicked signature sandwich
Build Your Own
Want something different? Then, you have the option to build your own. Choose the bread you love, and decide if you desire a sandwich, lettucewhich, or a spinach wrap. Then, add your favorite ingredients!
Providing Feedback
Don't forget to take the online survey, today. The smileys are available at https://www.whichwich.com/survey/ and they are ready waiting for you! Let them know your favorite things about them and how they can improve. All suggestions will be taken note of to continue to provide you with the best sandwiches and service.