Foster's Grille Online Survey
Do you love to visit the "Home of the Charburger?" Foster's Grille offers a delicious selection of menu items including burgers, chicken sandwiches, hot dogs, fish & chips, cheesesteaks, and more! They also sell wings, sides, salads, and drinks.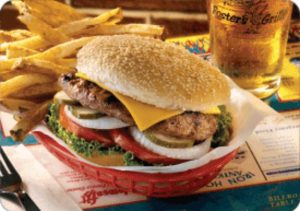 Foster's Feedback
Have you recently eaten at Foster's? Then, be sure to take a few minutes to complete the online survey! By finishing the feedback questions, you will be entered to win a $20 certificate for your next visit!
Foster's at Your Fingertips
Are you using the Foster's app? You can have Foster's at your fingertips by downloading the app on Google Play or in the Apple App Store! For text messages from the grille, you can text FOSTERSTOGO to 33733.
Jumbo Size & Jumbo Taste
Do you agree Foster's has great jumbo size products with jumbo taste? Or, do you find they can make improvements to their products? Visiting the online survey is a great way to let them know if you agree or disagree!
Voted Best Burgers & Fries
Foster's Grille was voted Best Burgers & Fries by Fauquier Times Readers. They definitely desire to offer you delicious foods at a great price! Do you vote them the best?
Limited Time Specials
Do you enjoy eating plant-based burgers? Did you know for a limited time, Foster's Grille is offering their version? They are also offering other limited time specials to their customers including the Sante Fe Chicken Sandwich with a chipotle lime marinade and a butterscotch milkshake. For other limited time specials, be sure to check out their online website.
Providing Honest Feedback
Now is the time to offer your most honest feedback for Foster's Grille! Take a few minutes to complete the online survey today at www.fostersgrille.com/survey and you may be the next lucky winner!