Sweet Peppers Deli Online Survey
Do you find Sweet Peppers Deli sandwiches Pepperlicous? Or, do you have suggestions you would like to offer in how to make their sandwiches more delicious? They desire to hear from you!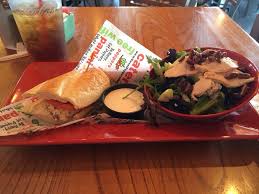 Sweet Peppers Online Questionnaire
Sweet Peppers Deli desires to know how you rate their food items including their: wraps, flatbreads, salads, soups, spuds, and sweets. They are offering an online feedback option which asks for the following info:
Time of day you dined
How frequently you visit
Staff friendliness
Menu suggestions offered
Timely delivery of your meal
Correct menu items received
Rating for the meal
Dessert offerings
Cleanliness of the restaurant
And special comments section
During the one-page online survey, you will also be given the option to sign up for special offers and events news. This is not required but if you desire, you can receive updates from Sweet Peppers Deli newsletter.
Peppers Sweet Rewards
Have you received your Sweet Pepper Rewards, yet? The deli is offering $5 free for every 100 points earned. If you earn 500 points, you will receive a free dessert. And, if you earn 1000 points you will receive a free entrée. Purchase a Pepper Sweet Rewards card for $10 and you can register to earn a $15 reward. For more info, be sure to visit their main site after completing the online survey.
Catering Menu Options
Did you know Sweet Peppers Deli offers catering options? Did you know they offer some of the following menu items?
Loaded Potato Soup
Chicken Sausage Gumbo
Crawfish Bisque
Tomato Basil Soup
MVP Bags
Heath Crunch Cookie Tray
Chocolate Chunk Cookie Tray
Fruit Tray
Whole Mile High Cheesecake
Whole Turtle Cheesecake
Iced Tea by the Gallon
Fresh Lemonade by the Gallon
Salad Boxes
Wrap & Sandwich Boxes
Potato Bar
Bulk Sides & Starters
Consider Sweet Peppers Deli for your next family get together, business meeting, or birthday party. Then, take a few minutes to leave feedback on how well they did at sweetpeppersdeli.com/survey!